The Certificate in Healthcare Fraud Examination, Risk Management, and Compliance is a four-course open-enrollment, non-credit certificate program that is designed to provide students with specialized knowledge and skills relating to healthcare fraud and abuse investigations, and regulatory compliance. Some of the important subject areas covered in the program include methods for investigating healthcare fraud and abuse, preventing and handling claim audits, and compliance with the PPACA, HIPAA, False Claims Act, Stark laws, the Federal Anti-kickback Statute, and other laws and regulations. The courses in the program are offered in a lock-step manner, so that completion of the entire program takes one year and one semester. The program is generally open to all qualified students, regardless of major.
The 2010 Patient Protection and Affordable Care Act of 2010 (PPACA) now requires mandatory compliance programs for all sectors of the health care industry. The requirement applies to all healthcare providers, regardless of size, that participate in the Medicare, Medicaid, and CHIP programs. Specifically, the PPACA requires that, as a condition of enrollment in Medicare, Medicaid and CHIP, providers and suppliers establish and maintain compliance programs that satisfy requirements to be established by the Secretary of Health and Human Services, in consultation with the U.S. Office of Inspector General (OIG).
The OIG is charged with issuing regulations that define the core elements that providers must implement in order to certify compliance with the mandatory compliance program requirement. The regulations begin to go into effect beginning 2013 for nursing homes, and afterwards for others types of providers, as the OIG releases more regulations.
The PPACA includes $300 million in new funds for enforcement. Consequences for not having an effective compliance program can include both civil and criminal prosecution. For example, the Civil False Claims Act makes it illegal to submit claims for payment to Medicare or Medicaid that the provider should know are false or fraudulent. No intent to defraud Medicare or Medicaid is required. Monetary penalties per claim may result in fines up to (3) times that of the program's loss plus $11,000 per each item or service listed in the claim.
We are anticipating vigorous enforcement and a related increase in the need for both investigators and compliance workers. The OIG has published some general guidelines for nursing facilities and skilled nursing facilities. It's interesting to note that these guidelines are based on the United States Federal Sentencing Guidelines, the basic rules that federal judges use in making criminal sentencing decisions. We anticipate similar guidelines to apply to other types of providers.
Given that the compliance provision of the PPACA is already law, the time is now for creating, reviewing, and improving compliance programs. The OIG recommends education and training.
There are all kinds of fraud and abuse but none of them are a more serious problem than health care fraud and abuse. According to FBI statistics,  health care fraud costs the country an estimated $80 billion a year (http://www.fbi.gov/about-us/investigate/white_collar/health-care-fraud). In addition to this staggering financial loss, millions of Americans have become victims of medical identity theft, unnecessary medical and surgical procedures, altered medical records and lost confidence in the medical care industry.
Rebecca Busch, leading health care fraud expert, author and educator says,
Healthcare fraud steals the very essence of human life. Stories include false claims by perpetrators who perform needless procedures that disable or kill, fake insurance broker or inappropriate payer denials that leave a patient disabled or with an untimely death. The list of examples is shocking and demoralizing, and generates a sense of hopelessness and a book in and of itself. More disturbing is that the world of healthcare fraud has become one of high-tech, highly skilled, educated, and professional perpetrators (Healthcare Fraud Auditing and Detection Guide, 2007).
South Florida is generally recognized as the nation's epicenter of healthcare fraud. As a result, the School of Accounting Executive Programs is uniquely positioned to offer this highly relevant certificate in an area that is important both locally and nationally.
Courses
Accounting Fraud Examination for Healthcare*
Healthcare Industry Overview: accounting, reimbursement, and internal control perspective
Healthcare Audit & Fraud Examination Principles I
Healthcare Audit & Fraud Examination Principles II
*Current students in the Master of Accounting with a Concentration in Forensic Accounting Program are not required to take Accounting Fraud Examination for Healthcare.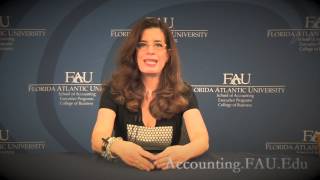 The Behaviors of Fraud - with Rebecca S. Busch
Rebecca S. Busch is a professor with the FAU School of Accounting Executive Programs, she is the founder of Medical Business Associates Inc., as well as forensic accountant. Here, Rebecca discusses the behaviors of healthcare fraud along with it's varying victims. For more information on The School of Accounting Executive Programs, please visit: http://Accounting.FAU.Edu